The Daniel Era Is Over…

Issa got her shit together so I think Daniel is about to be gone. We enter the scene with Issa moving in and Daniel handing her one last box from his place. She tries to thank him for everything and Daniel cuts her off and says she doesn't have to say anything. I think he is a little sad now that she doesn't need him. It's hard to tell if they are in an okay place from last weeks blow up. The way Molly says "bye" I think not, but that's too much inference to put a fact on it.




Nathan Has Potential…

Nathan just may be what the doctor ordered. He is fine, funny and spontaneous. He runs into Issa at her favorite food spot and then takes over her entire day. He lets her take him on an LA day that is filled with her childhood, an ongoing game of Truth and Dare, and they end up at her spot for a kiss on freshly moved in boxes. I enjoy Nathan on this episode, he reminds me of how normal dating happens. We live our life, moments in time match, we become very comfortable with each other and things naturally build. So far, Nathan seems to have his head on straight and a master plan.





The Job From Hell Is Over….
What happened to Issa is what happened to me and many like me. Once the job has crossed the line, you begin to have time to yourself to really think. You have time to put the pieces together and find your out. You know that you do NOT want to be there anymore, you have time to look into all of the toxic things that you deal with on a day by day basis and now you know without a doubt that you do NOT want to be there. We end the episode with Issa saying no to talking about getting back in the field but actually giving her notice. She needs more, she deserves more and now she will take us on her journey to find more!





Molly just can't seem to get it together… C'mon sis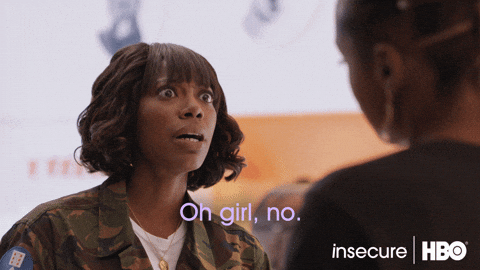 Molly is over analyzing her work experience and is literally going to make herself sick with stress trying to fit in on the food chain at her law firm. Her therapist tells her ultimately to chill out and find a way to make herself helpful at work. I actually like that idea, showing to other people that she is helpful will not only validate her worth but it will help her to build connections.
Well, Molly decides to go to everyone and offer to help and spreads herself to thin. Then she decides to pick the man to help vs the ladies. She actually made herself look worse with the women. Why would she do that? See, I hate when people offer to help or do something for me and then drop the ball. Now she looks not only unreliable but she looks very sketchy. Molly is making more problems for herself every week. I am concerned for Molly and her place at the firm.